NEWSLETTER
May 2019
Cruising is where you want to be!

Book Today!
1(408)972-5500
Fax- 1(408)972-1038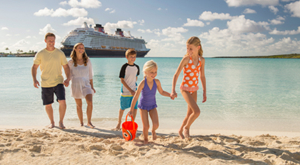 Why Travel with Disney
Magic for Every Member of Your Crew
When you set sail with Disney, you'll experience an unforgettable vacation that boasts something special for each and every member of the family so that no one ever has to compromise. Whether it's relaxing "me time" for adults, imaginative activities for the kids or thrilling entertainment for the whole family, a Disney cruise provides fun for everyone at sea and on land.
Fun and Relaxation for All
Every Disney cruise offers a different kind of enchantment for little pirates, princesses and parents alike, so everyone can enjoy their favorite things—and families can share in the enchantment together.
Adults
Escape to the privacy of adults-only locales and experiences—from a luxurious spa and intimate dining, to exciting nightlife and an adult-exclusive pool.
Families
Disney ships offer activities to bring families together to create long-lasting memories: Broadway-style live shows, deck parties, Port Adventures and more.
Kids
Imaginative play in vivid settings and Disney-themed entertainment are just some of the onboard offerings to keep your child having fun.
As to Disney artwork, logos, and properties: ©Disney Ships' Registry: The Bahama
Always wanted to take a River Cruise?
Here is your chance!
Viking Ocean Ships
Mediterranean Odyssey®

Rhine Getaway
Airfare from $499* and Special Cruise Fares
Viking® believes in offering well-designed cruises that bring you closer to the cultures of the world. With destination-focused itineraries across Europe, the Americas, Asia, Australia and beyond, we invite you to travel with like-minded travelers on what Viking calls The Thinking Person's Cruise® a culturally rich, immersive experience designed to help you explore and engage with your destination through its food, culture, countryside and customs—with enriching shore excursions, insightful lectures, Destination Performances, cooking classes and regionally inspired cuisine.
Plus, with Viking Inclusive Value, just about everything is covered, from meals and beverages to shore excursions and free Wi-Fi. Enjoy all this while sailing on board one of Viking's state-of-the-art vessels, whether it be a Viking Longship on Europe's rivers or an ocean sister ship on the world's great seas, recognized for their small ship luxury, streamlined Scandinavian design, refined onboard ambience and understated elegance.
Viking Ocean Ships
West Indies Explorer®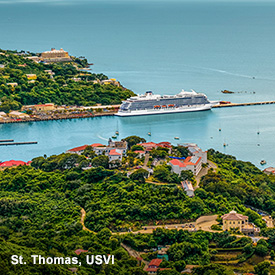 Roundtrip San Juan
San Juan, Puerto Rico; Tortola, British Virgin Islands; St. John's, Antigua; Castries, St. Lucia; Bridgetown, Barbados; Pointe-à-Pitre, Guadeloupe; St. Kitts (Basseterre); St. Kitts & Nevis; Philipsburg, St. Martin; Charlotte Amalie, St. Thomas; San Juan, Puerto Rico
11 Days from $3,299 per person*
Mediterranean Odyssey®
Viking Ocean Ships
Venice to Barcelona (or reverse)
Venice (overnight), Split, Dubrovnik; Corfu, Naples, Rome (Civitavecchia); Florence/Pisa (Livorno); Monte Carlo; Provence (Marseille); Barcelona (overnight)
13 Days from $4,999 per person*
Rhine Getaway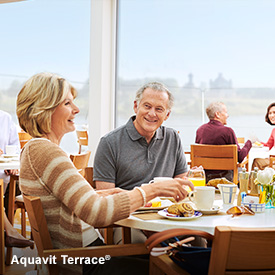 State-of-the-art Viking Longships
Basel to Amsterdam (or reverse)
Amsterdam, the Netherlands; Kinderdijk, the Netherlands; Cologne, Germany; Koblenz, Germany; Heidelberg, Germany; Strasbourg, France; Breisach, Germany; Basel, Switzerland
8 Days from $1,999 per person*
Danube Waltz®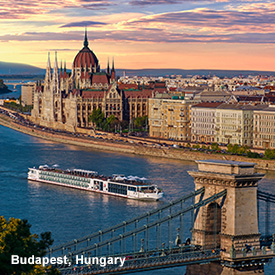 State-of-the-art Viking Longships
Budapest to Passau (or reverse)
Budapest, Hungary (overnight); Bratislava, Slovakia; Vienna, Krems, Linz, Austria; Passau, Germany (overnight)
8 Days from $2,099 per person*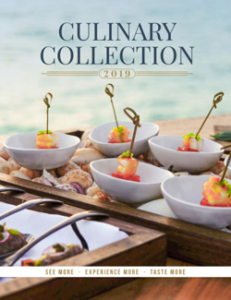 2019 CulinaryCollection_Partner_Celebrity (3)
DISCOVER THE BEST IN CULINARY EXPERIENCES
A new flavor can only be tasted once. The second time you sample that flavor, the taste is merely a luscious echo that simply does not measure up to that first time it danced across your palate. To many; it is the main reason they travel. And it is why we created the Culinary Collection. You'll discover a wide variety of delicious and delightful experiences on these unique cruise experiences ranging from demonstrations from world-renowned chefs to complimentary wine, indulgent chocolates to delightful meals focused on regional cuisine all surrounding you in a world of epicurean delights. As an added bonus, you may receive additional amenities at no additional charge, thanks to our agency's special relationships with the cruise lines. These little indulgences include a complimentary specialty dining experience for two and the services of a Distinctive Voyages Host, a Private Welcome Reception, an Exclusive Shore Event—but only when you book through our agency. Enjoy a complimentary specialty dining experience for two
Please ask for more booking information on any travel that is suggested in this article
EXCLUSIVE CULINARY OFFER FEATURED SAILINGS
14-NIGHT JAPANESE EXPLORER CRUISE Celebrity Cruises® Celebrity Millennium April 13, 2019 Yokohama to Tokyo Exclusive Shore Event: Experience Busan
9-NIGHT DALMATIAN COAST AND ITALY CRUISE Celebrity Cruises® Celebrity Constellation May 31, 2019 Venice to Rome Exclusive Shore Event: Stunning Sorrento and the Sorrentine Coast with Lunch
12-NIGHT SCANDINAVIA & RUSSIA CRUISE Celebrity Cruises® Celebrity Reflection June 26, 2019 Round trip Amsterdam Exclusive Shore Event: Haunted Tallinn
15-NIGHT HAWAII CRUISE Celebrity Cruises® Celebrity Eclipse October 27, 2019 Round trip Los Angeles Exclusive Shore Event: Royal Honolulu